This ad featured at
RVClearinghouse.com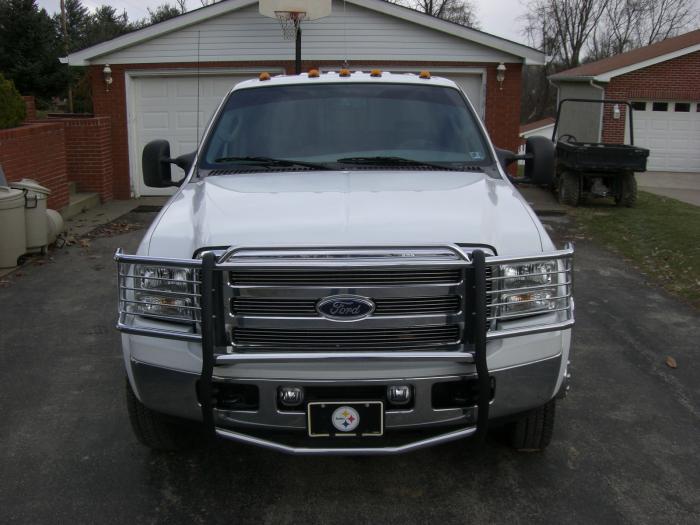 Category: Toters and Trucks
Listing No. 11514
2006 F-450 Lariat Turbo Diesel Classy Chassy Conv
Price:
$49,000.00
Listing ID:
11514
Contact Name:
James Rach
City:
State:
PA
Zip:
Country:
Phone:
724-747-2679


Year
2006
Make
Ford
Engine Specs
6.0 Powerstroke
Engine Type
Automatic
Mileage
8,050
Tires
Like New
Wheels
Aluminum
Number of Rear Axles
Single Axle
VIN
Hidden

Description:


Vehicle Description

This is a 2006 Ford F-450 Lariat purchased last year brand new and fully customized by Classy Chassis in Valparaiso, Indiana. This is being sold by the original owner, who put 8,000 miles on it (mostly highway). The car has been inspected in the state of Pennsylvania and is still valid. If you have any questions, please feel free to call at (724) 747-2679 or email. Engine:

Power Stroke V-8 Turbo Diesel w/ Automatic Transmission 2WD

Exterior:

White w/ Decals
Crew Cab
8' Bed
Tuxedo Bed Cover
Rhyno Bed Liner - Black
Chrome Brush Guard
Tinted Windows
Wrap Around Ground Effects
85-Gallon Diamond Plated Fuel Tank
5th Wheel Attachment
Rear End Ratio 4:30

Interior:

Black leather interior
Driver and Passenger Airbags
A/C w/ Climate Control System
Front leather Captain Seats - Heated/Vibrate/Recline
Rear seats fold into bed
Overhead CB and CD Console
Rear Overhead 7" Drop Down LCD Monitor ("Movies 2 Go")
Interior Cab Lighting
Power Adjustable Pedals
Steering Wheel Controls (Cruise, Sound, Air Control)
AM/FM/CD in Dash
Built-in Trailer Brake Control
Slide-Out Passenger Step
Keyless Entry
Wood-grain Trim
Security System
Fog Lights
Driver's and Passenger Airbags
Power Steering, Locks, Windows, Mirrors, Seats

Warranty:

Remaining Balance of Ford Factory Warranty Transferred with Ownership (5-year/50,000 miles)

Available for pickup or you arrange shipping.